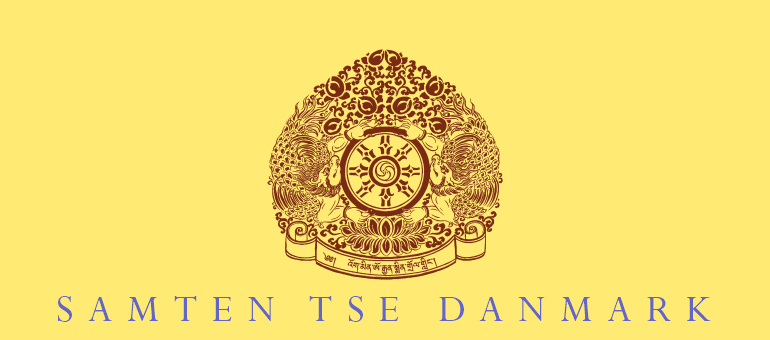 Nyheder
24-08-2020
MINDROLLING INTERNATIONAL ACTIVITIES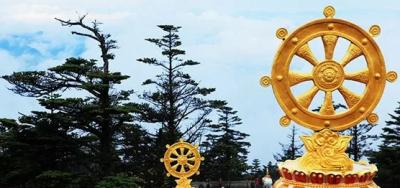 Klik på linket for at læse om Mindrolling Internationals aktiviteter i 2020 på Mindrolling Lotus Gardens hjemmeside: LINK

Please click on the link to read about Mindrolling International Activities in 2020: LINK
13-07-2020
MINDROL LEKSHEY ONLINE: CURRICULUM REVIEW AND TEACHINGS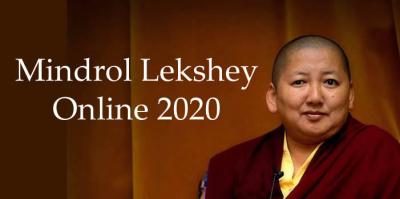 .
Mindrol Lekshey Online: Curriculum Review and Teachings
"Mindrol Lekshey provides a framework of everything that is possible to be transmitted for a practitioner to be fully equipped in their practice. How you make use of this to engage in the practices and bring them to fruition is entirely up to you."

—Mindrolling Jetsün Khandro Rinpoche
.
We hope that everyone is well and send many greetings to all our friends around the world. Due to the current events of the ongoing pandemic and keeping everyone's safety in mind, we will not be holding any summer programs at Mindrolling Lotus Garden this year. We continue to monitor the situation and are looking to see what possibilities the fall and winter may bring. During this time, we encourage everyone to stay safe and follow the guidelines set by your local health care authorities and the worldwide organizations monitoring the pandemic. This will be the first time in 17 years since Lotus Garden has been established that we will not be able to gather on the land.
To make the best out of the current situation, we are very happy to announce a two-week online course of review and teachings. This two-week program will begin on the auspicious day of Chökhor Düchen, July 24th 2020, which celebrates the Buddha's First Turning of the Wheel of Dharma. With sincerest aspirations to keep the continuity of the precious stream of teachings we have had the good fortune of receiving every year from Her Eminence Jetsün Khandro Rinpoche, and to persevere in our own study and practice, we are inviting old and new students of all levels to partake in this precious opportunity to practice and study together.
The backbone of any practitioner's journey along the path is the sincere and regular application of the three branches of hearing, contemplating, and meditating. Her Eminence Jetsün Khandro Rinpoche feels it is of the utmost importance to maintain this continuity through first hearing the teachings which then makes clear how one should contemplate and meditate upon them. In keeping with these instructions, Rinpoche has suggested the following curriculum for everyone to undertake.
Teachings
In 2017, Jetsün Khandro Rinpoche began a multiple-year cycle of teachings based on Longchen Rabjam's classic commentary, The Great Chariot, on resting the mind in natural ease. He composed this text "so that its readers could cross completely the ocean of sufferings of samsara to the fruition of Buddhahood." Longchenpa (1308-1364) was a great scholar and meditation master of the Nyingma lineage. This great master was also a prolific writer and is considered one of the foremost masters in the transmission of the dzogchen lineage.
With the guidance of Jetsün Khandro Rinpoche, Longchenpa's teachings will be presented from their beginning in a manner that will facilitate how to bring in-depth understanding of the Buddhist path into daily life. All practitioners, including those entering the path of practice, will greatly benefit from these teachings.
We will begin our review with Year 1 (2017) of Rinpoche's teachings on The Great Chariot. This six-talk series will lay the foundation for the continued in-depth study and review of Year 2 (2018) and Year 3 (2019). This first two-week series will cover Year 1 of Rinpoche's teachings.
Please note that the recordings from Year 1 (2017) and Year 2 (2018) are audio only, but for Year 3 (2019) there are video recordings.
Future online programs will cover Rinpoche's teachings from Year 2 and Year 3. Students who follow the online reviews of Years 1, 2 and 3 will then be well prepared to receive further teachings when Rinpoche begins the Year 4 cycle of the Great Chariot teachings.
Teachings will be released on a scheduled basis for students to follow along sequentially. Once they are released, they will remain available for students to listen to as their individual schedules permit for the duration of the two-week program.
Review Sessions
To take time to review the teachings and provide an outline of key points from each talk, senior students of Jetsün Khandro Rinpoche will lead 6 review sessions to help guide participants and answer any questions.
Teachings and Instructions from Rinpoche
Jetsün Khandro Rinpoche will speak with students each week and give additional teachings on The Great Chariot. Rinpoche will guide all students and give practical instructions for how to incorporate these teachings fully into our lives through the approach of hearing, contemplating, and meditating.
Program Schedule and Daily Practice Schedule
A two-week daily program schedule will be provided. We recommend that everyone participating keep to the program schedule diligently, just as you would if you were attending a program in person. A daily practice schedule will also be included to further strengthen and deepen the approach of hearing, contemplating, and meditating. Should your work or personal schedule not permit you to follow the schedule entirely, you may follow at your own pace and modify as needed.
Registration and Tuition
WHO MAY ATTEND: This two-week online course is being made available for students of all levels.
TUITION: The tuition for this online program is $200 ($180 for members).
Please note: Mindrolling Lotus Garden Members receive a 10% discount on all programs. If you would like more information on becoming a member and supporting the activities of Mindrolling Lotus Garden, please follow this link: https://www.lotusgardens.org/office/membership/
Questions
If you have questions about registration, the online portal, financial assistance etc., please send a mail to registration@lotusgardens.org.

With regards to reviews on Zoom or other concerns, please do not hesitate to contact us at event@samtentse.dk.

To register please visit:  https://www.lotusgardens.org/registration-mindrol-lekshey-online-2020/
20-04-2020
UPDATE: UDSKYDELSE AF RETRÆTE / POSTPONING RETREAT
Pga. Covid-19 situation i hele verden og de enkelte landes restriktioner kan HE Mindrolling Jetsün Khandro Rinpoches forårstour i Europa desværre ikke gennemføres som planlagt. Alle belæringer, inkl. retræten i Danmark, er derfor udskudt. Vi vil opdatere retrætedeltagere pr. mail, når der er nyt, og håber, at vi snart kan mødes igen. 

 We are sorry to inform you that given the current situation with Covid-19 and the related restrictions throughout the world, HE Mindrolling Jetsün Khandro Rinpoche´s spring teachings in Europa unfortunately cannot proceed as originally scheduled. All teachings, incl. the retreat in Denmark, have therefore been postponed. We will keep retreat participants posted by mail. Thank you for your understanding and hope to see you in the near future. 
07-04-2020
UPDATE: UDSKYDELSE AF ÅBNING FOR TILMELDING / POSTPONING OPENING OF REGISTRATION
Vi må beklageligvis udskyde åbning for tilmelding til næste Minling Dorsem retræte på Møn Retreat Center pga. COVID-19 situationen. Vi vil holde retrætedeltagere orienteret pr. mail, så snart vi har øvrige opdateringer. Opdateringer vil også være at finde her under "Nyheder". Tak for forståelsen og pas godt på jer selv!

We are sorry to inform you that the opening of retreat registration for the next Minling Dorsem Retreat in Moen Retreat Center has been postponed due to the COVID-19 situation. We will keep retreat participants posted via mail as soon as we have further updates. Please also refer to new posts on this website.  Thank you for your understanding and take good care.
23-02-2020
LOSAR-HILSEN FRA H.E. MINDROLLING JETSÜN KHANDRO RINPOCHE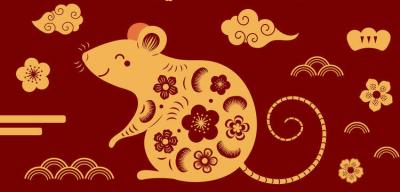 Dear Everyone,
At the dawn of the lunar year of the Metal Rat, Jetsun la and I join all of us at Mindrolling in wishing you all a very Happy Losar.
We send this wish with prayers and aspirations that each one of you will enjoy a wonderful and healthy year in 2020. But amongst everything else that one may aspire for, may this year bring you tremendous progress in fulfilling your aspirations of accomplishing the Dharma. May the buddhas and bodhisattvas continually shower all with their blessings and protection.
As practitioners, whilst we may still have many plans and longings, we need to continually remind ourselves that ultimately nothing has more true meaning nor is a true source of refuge other than the precious Dharma. Therefore, it is important that while we may continue to plan and have goals, we do not neglect to direct all these towards their becoming a support for Dharma and in creating a tendrel for deepening our understanding and practicing the precious teachings. Let this New Year bring in a renewed resolve to go a little further, take a few more steps towards our path to enlightenment. It is important that every year, we make as much effort as possible to go a little further so that our growth does not stagnate. It is imperative that we never lose our childlike enthusiasm and joy on the path of practice. May our diligence, joy and humor on the path of practice keep our steps light and steady as we walk towards complete awakening.
As we usher another year in, let us all join together in our aspirations for the world we all live in today. May the light of the teachings shine brilliantly in all directions and serve as a beacon of sanity and refuge. May obstacles of war and disease be dispelled and may all beings make a connection with kindness and wisdom. May truth and justice not just be high minded ideas but actual ideals cherished and implemented by those in power. May freedom and wellness be within the reach of all beings and may happiness and harmony abound. May the environment and all beings find balance and peaceful coexistence. May virtue and goodness prevail in all directions.
Joining Jetsunla and I in sending you prayers and best wishes are Minling Sangyum Kushog, Dungse Rinpoche, Jetsun Rinpoche and all Mindrolling Sangha gathered here at Mindrolling.
KR
01-01-2020
NYTÅRSHILSEN FRA H.E. MINDROLLING JETSÜN KHANDRO RINPOCHE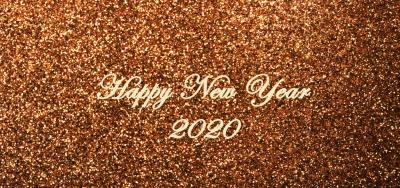 To all our dearest friends,
Many warm greetings to everyone and we wish you all a very happy New Year.
It is that time of the year again when we usher in another New Year and get ready to say our farewell to yet another year of our lives. Jetsunla and I send you all our warmest wishes and pray that the coming year be filled with joy and ever-blossoming wisdom.
I remember as a child thinking that a whole year is so long. Twelve months, thirty odd days a month, fifty-two weeks, three hundred and sixty five days—all this would seem like an eternity. Whenever, I asked a question to which the answer was "next year," it would seem like a period too far away to even plan for or think about in the present.
But I am sure, along with me, many of you too will feel as we grow older, that the years now just pass by in leaps and bounds. A year seems to just swiftly pass by and the past twelve months seem nothing more than a fleeting moment.
As is said,
"The three realms of existence are as transient as autumn clouds.
The birth and death of beings are like a theatrical performance.
The lives of beings pass by like a flash of lightening in the sky,
Rushing down like a cascading waterfall down a steep mountain."
The flow of time is both inevitable and inexorable. And with each passing year, the years become more fleeting. The flow of time seems that much more swift. Yet, as practitioners, we have a choice. A choice of whether we will allow the flow of time to just carry us like a windswept leaf or choose to live with deepened awareness making each passing day matter.
How do we do that?
How do we make each day matter instead of just floating through the dizzying haze that the world seems to be sometimes?
We are not talking about accomplishing something great each day but rather, that each day we wake up to a little more joy, a little more acceptance and a little more clarity.
Joy that one is alive and open to a world of possibilities. Acceptance that things may not always be perfect and we may have some ways to go but that at least we have started on the journey and the potential to achieve goodness, is very accessible. And clarity that while time passes and the truth of impermanence manifests in manifold ways, there is but still something good in that.
The passage of time teaches us and makes us wiser if we are aware of all its lessons. The good that happens enriches us and empowers us. The bad gives us some bitter lessons but also brings to mind that everything passes.
As my teacher always used to say, "Even the worst of things that can happen to you has a helpful lesson somewhere in it for you to learn and benefit from. You have to just see it and take from it the lesson it bestows."
This year I have been thinking a great deal on the theme of metamorphosis. The change that is possible only due to the very nature of all things being subject to change. And we can choose what our metamorphosis will be like because like it or not, we will change.
When we meet our old friends whom we have not seen since childhood or college years, we are often surprised by how much they have changed. Similarly, it is so with friends or family we don't see for many years. And in their eyes, it is inevitable that we too will seem different and changed.
Now it is really up to us what they will see.
What have we morphed into from our old days and old ways?
Sometimes I find it a fun exercise to picture a meeting between my younger and older selves and what we would tell each other. It is a fun thing to try each New Year.
For me personally, the passage of time has brought me to an awareness, that one of the ways not to be windswept by outer circumstances, is to break free of whatever routines and systems we make for ourselves.
There is the danger of forgetting to reflect on the passing of time and remain stuck to what is familiar, safe and stagnant.
Pride and insecurity, both actually just the two sides of the same coin, often cushion themselves on what is familiar. And familiarity finds its most discomfort in change. We can get stuck, hesitant to take a leap and shed our old beliefs and dogmas.
When we do that, time seems to just race by as we live each passing year like the last year and the year before that and so on.
Therefore, the New Year is a good year to seize control and decide that yes, this is the year I will have the courage to take the leap—to metamorphosize into all that I can be without limiting myself and giving into self-doubt. It is the time to embrace change for the better or at least give it all you have got so that in the end, there are no regrets.
The movement of time is constant, but if one is wise, this movement of time and its transient nature teaches us something very profound. Real celebration is the celebration of this wisdom.
This New Year, let us celebrate this wisdom that change can possibly be an agent of a beautiful metamorphosis. A true transformation can only begin when one has the courage to let go off the things that bind us more than free us.
May as we move into a new year and a new decade, resolve to give rise to the wisdom and courage that allows the change to bring the best that is within us. And may this innate beauty and extraordinary potential become the basis of sanity and happiness for all.
On behalf of Minling Sangyum Kushog, Jetsün Rinpoche, Dungse Rinpoche, Jetsunla and the Mindrolling Sangha here, I send our very warmest and heartfelt wishes to all of you for a truly wonderful New Year filled with delight and auspiciousness!
- MJKR
29-11-2019
H.E. MINDROLLING JETSÜN KHANDRO RINPOCHE DANMARK 2020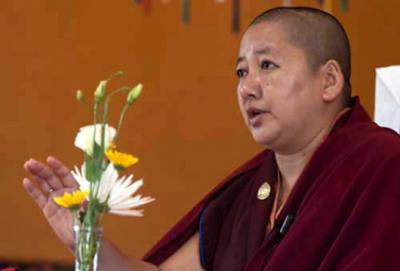 Det er med stor glæde, at vi nu kan annoncere datoerne for H.E. Mindrolling Jetsün Khandro Rinpoches tredje Minling Dorsem retræte i Danmark 2020. Det vil finde sted d. 14.-17. maj 2020 på Møn Retreat Center. Der er tale om en fortsættelse af undervisningen i 2018 og 2019. I sidste halvdel af marts 2020 åbnes der for tilmelding.
UPDATE: Åbning for tilmelding til næste retræte i Danmark er udskudt pga. COVID-19 situationen. Alle opdateringer vil ske her på siden under 'Nyheder' samt pr. mail.

We are very happy to announce the dates for H.E. Mindrolling Jetsün Khandro Rinpoche's third Minling Dorsem retreat in Denmark 2020. It will take place May 14th-17th 2020 at Moen Retreat Center. Jetsün Khandro Rinpoche will continue the teachings from 2018 and 2019. Registration for the retreat opens in the latter part of March 2020.
UPDATE: Opening of retreat registration has been postponed due to the COVID-19 situation. For further updates, please refer to 'News' on this website as well as to your mail.
01-05-2019
ÅBNING FOR TILMELDING TIL MINLING DORSEM RETRÆTE I JULI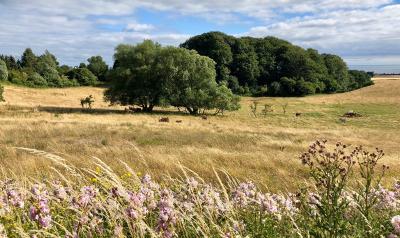 Så er der åbnet for tilmeldinger til den anden Minling Dorsem retræte med HE Mindrolling Jetsün Khandro Rinpoche.
Retræten finder sted d. 11.-14. juli 2019 på Møn Retreat & Kursuscenter, Askeby.
Der er ankomst for deltagere d. 11. juli kl. 12-15.
Retræten slutter d. 14. juli efter frokost.
Har du ikke deltaget i den første Minling Dorsem retræte i 2018 og er interesseret i at deltage i denne cyklus af belæringer, bedes du hurtigst muligt maile til info@samtentse.dk.


Minling Dorsem Retreat
July 11th-14th
Registration is now open
Registration for the second Minling Dorsem retreat with HE Mindroling Jetsün Khandro Rinpoche is now open.
The retreat will take place July 11th-14th at Moen Retreat Center, Askeby.
Arrival on July 11th is between noon and 3pm.
The retreat ends July 14th after lunch.
If you have not participated in the first Minling Dorsem retreat in 2018 and would like to join the Minling Dorsem Cycle of Teachings, please send a mail as soon as possible to info@samtentse.dk.
26-04-2019
STUPA INDVIELSE OG BARDO EMPOWERMENT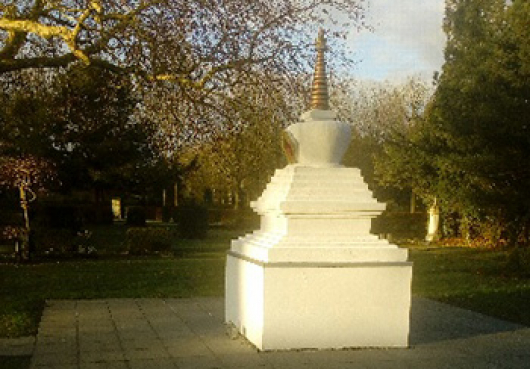 H.E. Mindrolling Jetsün Khandro Rinpoche har igen i år taget imod en invitation fra Buddhistisk Bisættelses Forening og vil indvie stupaen på Bispebjerg Kirkegård og give en bardo empowerment.
Buddhistisk Bisættelses Forening inviterer efterfølgende alle fremmødte til at deltage i en "sammenskudsbuffet" ved Lotus Søen lige ved stupaen. Medbring venligst en vegetarisk ret og/eller drikkevarer (vand, juice, sodavand og lign.) og/eller kaffe/the på termokande. Foreningen sørger for engangsservice.
Der er kun få stole til rådighed, så medbring desuden et tæppe til at sidde på under hele arrangementet.
ADRESSE
Bispebjerg Kirkegård ved den buddhistiske urnehal og stupaen
Frederiksborgvej 125
2400 København NV
TIDSPUNKT
9. juli 2019, kl. 15
Mød gerne op kl. 14 og giv en hånd med ved forberedelserne.
Alle bedes være ankommet senest kl. 14.30 til indvielsen af stupaen og bardo empowerment.
Hvis I har spørgsmål, bedes I checke www.buddhistisk-bisaettelse.dk eller kontakte Ani Ea, mobil 5267 6786.

STUPA INAUGURATION AND BARDO EMPOWERMENT
H.E. Mindrolling Jetsün Khandro Rinpoche has again this year most kindly accepted an invitation from Buddhist Cremation Society ("Foreningen Buddhistisk Bisaettelse") and will inaugurate the Stupa on Bispebjerg Cemetery, Copenhagen, and in addition give a bardo empowerment.
Furthermore Buddhist Cremation Society invites everybody to join a "potluck buffet" by the Lotus Lake next to the Stupa afterwards. Please bring a vegetarian dish to share and/or alternatively beverages (water, juice, soft drinks) or tea/coffee in thermos. Disposable plates, cutlery and cups will be available.
For both arrangements there will be only very few chairs available, so please bring a picnic blanket to sit on.
ADDRESS
Bispebjerg Cemetery - the Buddhist Columbarium and Stupa
Frederiksborgvej 125
2400 Copenhagen NV
TIME
July 9th 2019, 3 PM
Please arrive by 2 pm to help with setting up the venue and buffet and well in advance, at the latest at 2.30 pm, for the inauguration and empowerment.
If you have questions please check www.buddhistisk-bisaettelse.dk where updates will be posted or contact Ani Ea +45 5267 6786.
13-04-2019
ÅBNING FOR TILMELDINGER SLUT APRIL
Vi åbner for tilmeldinger til H.E. Mindrolling Jetsün Khandro Rinpoches andet Minling Dorsem retræte, som finder sted 11.-14. juli 2019 på Møn Retreat Center i slutningen af april og senest 1. maj 2019. Flere informationer følger snarest.

The registration for H.E. Mindrolling Jetsün Khandro Rinpoche's second Minling Dorsem retreat at Moen Retreat Center, Denmark, will open at the latest May 1st 2019. More information will follow in due course.
31-12-2018
NYTÅRSHILSEN FRA H.E. MINDROLLING JETSÜN KHANDRO RINPOCHE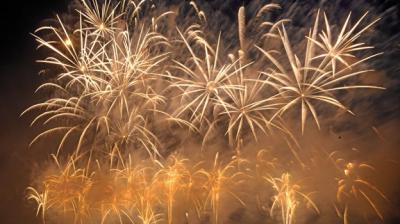 Greetings to you all on the occasion of another New Year.
Jetsunla and I are joined by Dungse Rinpoche, Jetsun Rinpoche, Minling Sangyum Kushog, Britton la and the monastic and lay Sangha of Mindrolling in wishing you all a most happy and healthy New Year 2019.
Time continues to flow on and we are here today ushering in another year of our lives.
As we look back at the year that is ending and look forward into the future to the year that is dawning, one cannot not feel the poignancy of impermanence. Change or impermanence is the very foundational thought that we try to keep in mind as Dharma practitioners and taking a really close look at impermanence brings forth the very ephemeral quality of all phenomena.
I recently watched a 15 second video on the death of a single cell and it was quite amazing to watch the dissolution of a living thing. To think, that we are all composed of trillions of cells each going through their own life cycle is fascinating and paints a very vivid picture of the impermanent nature of all things.
The flow of time and the impermanence of all phenomena is inevitable but understanding impermanence allows us to rest in ease when facing suffering and challenges and hopefully encourages us to release some of those things that we seemingly hold on to just a bit too tightly. Impermanence lets know that ' this too will pass', and it allows for the renewal of many things, giving us all a fresh view and another chance at things. It can also help develop a sense of appreciating the good things but not holding on to them so tightly, quite like the Japanese appreciation for the blooming of cherry blossoms and seeing their beauty as the very poignant and ephemeral quality of beauty. Truly understanding impermanence can help lead to facing whatever life offers with more equanimity.
The passing of another year is a good time to collect our thoughts and "regroup" our commitment to the path of hearing and contemplating. If we look back at our year and see a less than stellar year of practice, it is a good time to hit the refresh button. But this must be done with a sense of joy and enthusiasm. It can indeed be difficult to muster enthusiasm as more and more years pile up but it is integral to try and do so in our practice because a sense of jadedness and lack of joy can slowly seep in and make practice too just a case of going through the motions.
Instead if we think of the inconceivable marvel that is the Buddhadharma and how meeting it has indeed been like finding the most precious jewel in a heap of dust, that childlike wonder can help sustain our practice and unfurl the brilliance within our daily study and practice.
Throughout the year, many of us keep ourselves preoccupied with numerous attempts, which are often oblivious and sometimes with sophistry, to try and keep things constant and unchanging.
But the year changes and gently we are all reminded that change is inevitable.
Impermanence can be brought to mind to truly be a "thought that transforms the mind."
It makes us see not just the birth, old age, sickness and death that is everywhere but also the vivid fluidity of every single thing in the universe— the constant motion, constant search, constant hope, constant growth, constant decay—bringing to mind the very fundamental teachings of Shakyamuni Buddha.
It is when we recognize this incessant movement, both subtle and gross, that we then realize that true refuge lies only in the stillness of a mind that rests in itself and the joy that unfurls from within.
May each one of us find that immutable, invincible joy!
And now, as one old year gives way to a new year, we remember our many friends and loved ones, who have moved on. We turn our mind towards many more of our Sangha brothers and sisters, who have faced health and other challenges this past year and are all bravely meeting this adversity in marvelous ways by keeping the view of the Dharma and devotion to the Three Jewels and the Three Roots at heart. I encourage all of you to spend this new year dedicating prayers for all of our Sangha friends and for all sentient beings in difficult situations and living in a time when the world itself seems changed and unpredictable.
Since something infinitesimal to the world at large, changes and is in a constant flux, we find that the only real constant is change itself.
What to do with this inevitable change is how our metal as a practitioner is tested. As we change the calendar, we need to bring a positive change in ourselves as well.
We must all renew our commitment to our path of practice—that we will dedicate a little more effort, a little more time with a little less self-absorption into our practice each and every day of this coming year. That we will find true joy in having met the precious Buddhadharma and that joy will propel us forward with more courage and devotion to truly embody a practitioner of the teachings of Gautama Buddha.
And so, as we move into another new year, I encourage everyone to reflect on the gift of this precious life with its extraordinary potential and the profound Dharma that allows us to recognize this.
May each one of us, bring into our awareness, the innate basic goodness and courageously build its potential to a powerful declaration of kindness and patience.
As is said
"Knowing others is intelligence, knowing yourself is true wisdom.
Mastering others is strength, mastering yourself is true power."
May each one of you find courage, wisdom, support, blessings and love and May all obstacles in your life be dispelled. May this New Year bring a deepened understanding of the profound Buddhadharma within our minds and increased sanity in the world outside.
With all my love,
JKR
03-11-2018
H.E. MINDROLLING JETSÜN KHANDRO RINPOCHE DANMARK 2019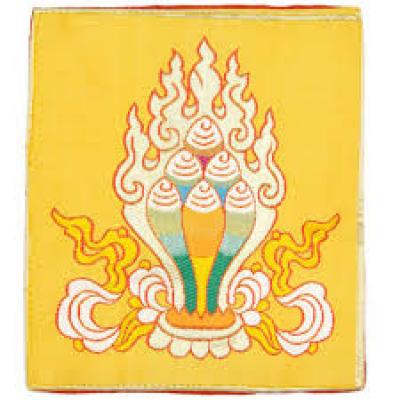 Det glæder os meget at kunne meddele, at vi nu har fået datoerne for Mindrolling Jetsün Khandro Rinpoches anden Minling Dorsem retræte i Danmark 2019. Det vil finde sted d. 11.-14. juli 2019 på Møn Retreat Center. Der er tale om en fortsættelse af Rinpoches undervisning i 2018. Omkring 1. maj 2019 åbnes der for tilmeldinger.

We are very happy to announce the dates for Mindrolling Jetsün Khandro Rinpoche's second Minling Dorsem retreat in Denmark 2019. It will take place July 11-14th 2019 on Moen Retreat Center. Rinpoche will continue her teachings from 2018. Registration for the retreat will open around May 1st 2019.
28-05-2018
INDVIELSE AF JORD TIL STUPA
H.E. Mindrolling Jetsün Khandro Rinpoche vil indvie jord til en stupa ved den Buddhistiske Urnehal på Bispebjerg Kirkegård.
Indvielsen er arrangeret af Buddhistisk Bisættelse. Deltagere bedes møde op kl. ca. 15.30 og samles ved Den Buddhistiske Urnehal, Frederiksborgvej 123, 2400 Kbh. NV, d. 6. juni kl. 15.45.
02-03-2018
ÅBNING FOR TILMELDING TIL MINLING DORSEM RETRÆTE I JUNI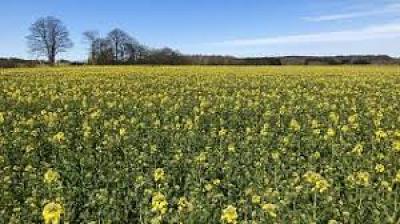 Det glæder os meget at kunne fortælle, at den første Minling Dorsem retræte med H.E. Mindrolling Jetsün Khandro Rinpoche i Danmark nu er åben for tilmelding. Retræten finder sted 7.-10. juni 2018.
Chögyal Terdak Lingpa, (1646-1714) Mindrollinglinjens grundlægger, fandt i 1667 de meget værdifulde Ati Zabdön cyklus af belæringer også kendt som Minling Dorsem cyklus af belæringer. Belæringerne blev samlet og kommenteret af Terdak Lingpas yngste bror, den store oversætter Lochen Dharmashri.
Teksten er en integreret præsentation af hele den buddhistiske praksisvej. Den er altomfattende og komplet idet den omfatter både de forberedende praksisser såvel som de højeste atiyoga meditationer.

 We are delighted to announce that the first Minling Dorsem Retreat in Denmark led by H.E. Mindrolling Jetsün Khandro Rinpoche is now open for registration.
Chögyal Terdak Lingpa ( 1646-1714), founder of the Mindrolling Lineage, in 1667 discovered the very precious Ati Zabdön Cycle of teachings also known as the Minling Dorsem cycle of Teachings. These teachings were compiled and commented by Lochen Dharmashri, the youngest brother of Terdak Lingpa and a great translator. The text is an integrated presentation of the entire Buddhist path of practice. It is complete in encompassing the preliminary practices as well as the highest atiyoga meditations.
01-01-2018
NYTÅRSHILSEN FRA H.E. MINDROLLING JETSÜN KHANDRO RINPOCHE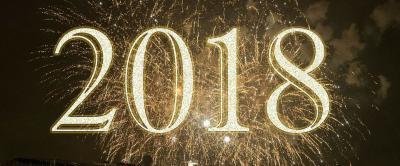 Many warm greetings and best wishes to everyone on the occasion of the dawning of the New Year 2018.
May the coming year bring the flourishing of innate joy, wisdom and courage and stabilization in your practice of the precious Dharma.
May the blessings of the Three Jewels be with you at all times and may merit and auspiciousness thrive in your life.
May basic sanity prevail in the midst of chaos and confusion.
May basic goodness pervade and sometimes be discovered where you least expect it and may laughter and a sense of humor and irony be your constant and supportive friend through good times and bad.
I send all my prayers and love to you and join the entire Mindrolling family and Sangha in our aspiration for your long and fruitful life.
JKR
29-11-2017
H.E. MINDROLLING JETSÜN KHANDRO RINPOCHE 2018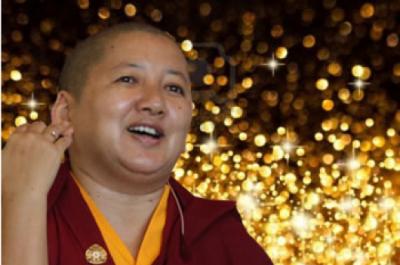 Det er med glæde, at vi nu kan annoncere datoerne for Rinpoches næste retræte i Danmark:
7.-10. juni 2018
Så sæt kryds i kalenderen! Vi er allerede i gang med de første forberedelser til Minling Dorsem retræten 2018.
Kurset afholdes som en retræte med overnatninger. Så snart der er mere nyt, vil interesserede få besked via nyhedsmail såvel som her på siden.
29-11-2017
MINDROLLING RETREAT I DEHRADUN, INDIEN, 2018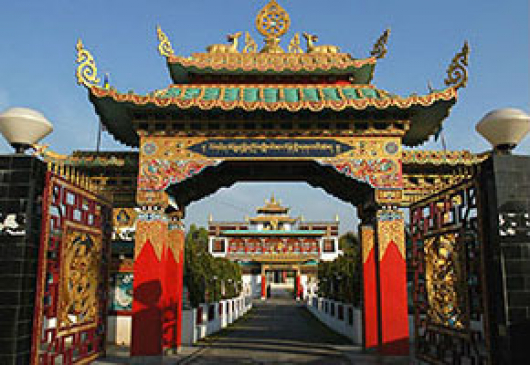 Vi har modtaget indbydelse til Mindrolling Retreat i 2018, som videregives her til alle, der måtte være interesserede.
Startdatoen er den 2. februar 2018, og retræten slutter den 13. februar.
Programmet vil bestå af belæringer givet af H.E. Mindrolling Jetsün Khandro Rinpoche, ligesom der vil være tid til personlig praksis og perioder med gruppemeditation.
08-02-2017
KURSUS MED H.E. MINDROLLING JETSÜN KHANDRO RINPOCHE
KØBENHAVN 9. TIL 11. MAJ 2017
Indledende undervisning der fører frem til Ati Zabdön cyklus af belæringer
14-12-2016
MINDROLLING RETREAT I DEHRADUN, INDIEN, 2017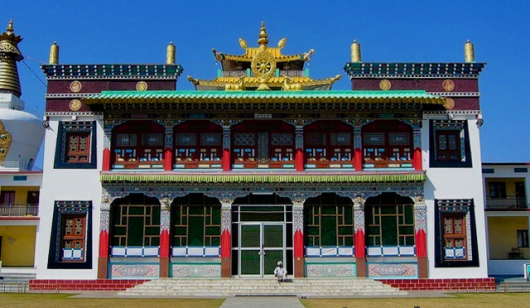 On behalf of Mindrolling International we are delighted to announce a five week intensive retreat at Mindrolling Monastery, which will take place from January 15th to February 21st 2017.
This retreat will be an opportunity for practitioners to strengthen their practice within the supporting framework of a silent sessions retreat in the sacred environment of the Mindrolling Monastery. Her Eminence Mindrolling Jetsün Khandro Rinpoche will bestow teachings throughout this retreat. Rinpoche would like this retreat to be open to practitioners who have received numerous teachings and require now to dedicate time to intensive practice in order to further deepen their understanding of the precious Dharma. It will provide one with the precious opportunity to work with the various teachings and practices one has received within the framework of a disciplined and scared environment. It will thus enable practitioners to truly strengthen and deepen one's practice of the Buddhadharma and bring the view into meditation and action.
28-11-2016
KURSUS MED H.E. MINDROLLING JETSÜN KHANDRO RINPOCHE DANMARK 2017

SÅ ER DER GLÆDELIGT NYT!
Vi har nu fået dato for Mindrolling Jetsün Khandro Rinpoches kursus i København 2017.
Det bliver 3 hverdage: 9. 10. og 11. maj.
Kurset afholdes i Phendeling, og vi regner med undervisning sen eftermiddag og aften.
Mere information følger.
Bedste hilsner
Samten Tse Danmark
19-01-2016
LOSAR-HILSEN FRA H.E. MINDROLLING JETSÜN KHANDRO RINPOCHE

Guru Rinpoche, Buddha of the three times,
Lord of all siddhis who is the one of great bliss,
Dispeller of all obstacles, wrathful tamer of Mara,
We supplicate you; please grant your blessings.
Grant your blessings that outer, inner
and secret obstacles be pacified
And that our intentions be spontaneously accomplished.
Greetings to everyone on the eve of the Fire Monkey Year.
As another year ends and the morrow brings in the beginning of another lunar year, we at Mindrolling wish you a harmonious new year filled with contentment and happiness.
For those of us blessed with the connection to Guru Rinpoche, this Year of the Monkey is a special year that only comes once every 12 years. Although capturing the life, activities and meaning of the great Guru of Oddiyana is like measuring the sky, from a conventional perspective, it is said that this great second Buddha manifested as the Lotus Born in the Year of the Monkey.
It is extremely fortunate that we are all able to celebrate this special year in 2016. And as we begin this year with renewed vigor and enthusiasm to be a true Dharma practitioner not just in name but also in meaning, let us pledge ourselves that we will take our practice that much further; we will put that much extra effort to be kinder and we will push ourselves a little harder to be more patient. We will, in this year of Guru Padmasambhava, try our best to embody his teachings and take another step, no matter how big or small, closer to enlightenment. Let us not fall into laziness, excuses and stagnation but look to welcome this year with freshness and vitality injected into our daily practice.
So, let us take this opportunity to find joy and a sense of eagerness in bringing richness to our practice. Let us find time to celebrate the goodness and virtue we can give rise to in our lives.
Celebration is not just eating, drinking, play and entertainment and mindless activities. As practitioners we should learn to celebrate—
Celebrate the wonderful innate qualities of kindness and love.
Celebrate the ability to give happiness to others.
Celebrate contentment and simplicity.
Celebrate that fact that you are human with boundless goodness.
Celebrate who you are and how you can evolve to being the source of joy to all.
Celebrate how far you have come and all that has led you to this point.
Celebrate the opportunity to practice the Dharma.
Celebrate silence.
Celebrate solitude.
Celebrate small moments of joy.
Celebrate all beings and your inter-connectedness to all.
Celebrate every moment knowing that each moment carries the full potential of liberation.
Celebrate not just once the new year but each new moment as it arises.
Celebrate the fact that the glorious gurus of the lineage appeared and gave rise to immeasurable benefit.
Celebrate the happiness and success of others.
Celebrate virtue and merit.
There are all these many simple and yet very powerful ways we can celebrate together. And what does it mean when we say "celebrate?" To celebrate is to take a moment to pause, reflect and then give rise to pure joy which fills us with renewed vigor and resolve to persevere on our path of practice. Celebration should lead us to think, "Yes, everything may not be perfect but we are still here, there's still goodness and we have much to be joyful about and much to preserve and much to improve upon." True celebration brings appreciation, strengthened vows and vitality in our practice and lives.
So let us celebrate in the true sense—not in the conventional sense of partying and self-congratulatory dullness but with enthusiasm and the fresh bloom of joyful resolve to go further on our path to true awakening.
Minling Dungse Rinpoche, Jetsün Gautami Rinpoche and all of us at Mindrolling Ladrang and Mindrolling and Samten Tse send our Losar Greetings and prayers to you all.
—MJKR
02-12-2012
PARINIRVANA: KYABJE TAKLUNG TSETRUL RINPOCHE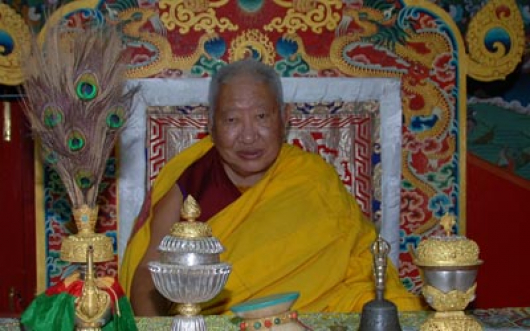 H.E. Mindrolling Jetsün Khandro Rinpoche har nævnt, at den bedste praksis for studerende i forbindelse med en stor mesters parinirvana er guruyoga. Tilbed guruen med en hjertefølt hengivenhed, akkumuler Guru Rinpoche mantraet og reciter bønner til Guru Rinpoche.



H.E. Mindrolling Jetsün Khandro Rinpoche has said that the best practice for students to do at a time of parinirvana of a sublime teacher is guruyoga. Supplicating the guru with heartfelt devotion, accumulating the mantra of Guru Rinpoche, and reciting prayers to Guru Rinpoche.