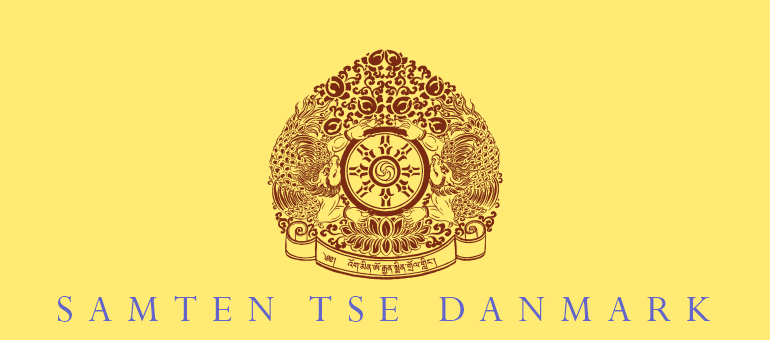 Biography of Her Eminence Jetsün Khandro Rinpoche
Her Eminence Mindrolling Jetsün Khandro Rinpoche is the daughter of Kyabje Mindrolling Trichen Gyurme Künzang Wangyal. Jetsün Khandro Rinpoche is one of the most renowned Tibetan teachers currently teaching in the west. Born into the Mindrolling lineage, which throughout its history has had many accomplished female masters, Rinpoche was recognized at the age of two by His Holiness the 16th Karmapa as the re-incarnation of the Great Dakini of Tsurphu, Khandro Ugyen Tsomo, who was one of the most renowned female masters of her time. Thus, the present Khandro Rinpoche came to hold the lineages of both Nyingma and Kagyu schools.
Jetsün Khandro Rinpoche received teachings and transmissions from some of the most accomplished masters of the 20th century, His Holiness Mindrolling Trichen, His Holiness Dilgo Khyentse Rinpoche, His Eminence Trulzhig Rinpoche, His Eminence Tenga Rinpoche, His Eminence Tsetrul Rinpoche and His Eminence Tulku Ugyen Rinpoche.
Rinpoche has been teaching internationally for sixteen years and teaches extensively in both Europe and North America, offering teachings from both the Kagyu and Nyingma schools. She has also established and heads the Samten Tse Retreat Centre in Mussoorie, India which provides a place of study and retreat for monastics and Western lay practitioners, with students from East and West living together in spiritual community. Currently 52 nuns and 30 western students are in residence at Samten Tse. As president of Samten Tse Charitable Projects, Rinpoche heads various charitable projects and sponsorships including sponsorship of the elderly, Tibetan Women's Development Projects, Tibetan Youth Projects, The Leprosy Project, sponsorship of retreats for Buddhist practitioners as well as numerous community development projects. Rinpoche is also actively involved with the Mindrolling Monastery in India.
Lotus Garden Retreat Center, the North American Seat of Mindrolling International was established by Her Eminence Jetsün Khandro Rinpoche in 2003 under the guidance of His Eminence Khochhen Rinpoche, the current abbot of Mindrolling Monastery in India. Rinpoche's vision of Lotus Garden is as a place of study and practice of the Buddha Dharma with the aspiration in particular to assist in the flourishing of the Mindrolling Lineage teachings. Rinpoche is also very active in other parts of the world with centers or associations in many countries including Samten Tse Czech Republic, Samten Tse Germany, Samten Tse Greece and Samten Tse Society, France.
In 2003, Rinpoche's book entitled This Precious Life: Tibetan Buddhist Teachings on the Path to Enlightenment, was published by Shambhala Publications.
Official web pages of Mindrolling Jetsün Khandro Rinpoche: http://www.khandrorinpoche.org