Samten Tse Danmark
Her Eminence Mindrolling Jetsün Khandro Rinpoche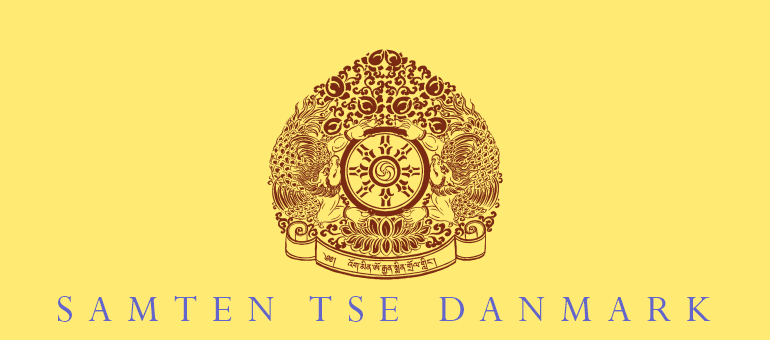 Nyheder
28.05.2018
Rinpoche indvier jord til stupa 6. juni kl. 15:45
HE Mindrolling Jetsün Khandro Rinpoche vil indvie jord til en stupa ved den Buddhistiske Urnehal på Bispebjerg Kirkegård.
Indvielsen er arrangeret af Buddhistisk Bisættelse. Deltagere bedes møde op kl. ca. 15.30 og samles ved Den Buddhistiske Urnehal, Frederiksborgvej 123, 2400 Kbh. NV, d. 6. juni kl. 15.45.
02.03.2018
Ati Zabdön Retreat 7.-10. juni 2018
Det glæder os meget at kunne fortælle, at den første Ati Zabdön retræte med H.E. Mindrolling Jetsün Khandro Rinpoche i Danmark nu er åben for tilmelding.
Chögyal Terdak Lingpa, (1646-1714) Mindrollinglinjens grundlægger, fandt i 1667 de meget værdifulde Ati Zabdön cyklus af belæringer også kendt som Minling Dorsem cyklus af belæringer. Belæringerne blev samlet og kommenteret af Terdak Lingpas yngste bror, den store oversætter Lochen Dharmashri.
Teksten er en integreret præsentation af hele den buddhistiske praksisvej. Den er altomfattende og komplet idet den omfatter både de forberedende praksisser såvel som de højeste atiyoga meditationer. Læs mere ...
In English
We are delighted to announce that the first Ati Zabdön Retreat in Denmark led by H.E. Mindrolling Jetsün Khandro Rinpoche is now open for registration.
Chögyal Terdak Lingpa ( 1646-1714), founder of the Mindrolling Lineage, in 1667 discovered the very precious Ati Zabdön Cycle of teachings also known as the Minling Dorsem cycle of Teachings. These teachings were compiled and commented by Lochen Dharmashri, the youngest brother of Terdak Lingpa and a great translator. The text is an integrated presentation of the entire Buddhist path of practice. It is complete in encompassing the preliminary practices as well as the highest atiyoga meditations. Read more ...
01.01.2018
Nytårshilsen fra Rinpoce
Many warm greetings and best wishes to everyone on the occasion of the dawning of the New Year 2018.
May the coming year bring the flourishing of innate joy, wisdom and courage and stabilization in your practice of the precious Dharma.
May the blessings of the Three Jewels be with you at all times and may merit and auspiciousness thrive in your life.
May basic sanity prevail in the midst of chaos and confusion.
May basic goodness pervade and sometimes be discovered where you least expect it and may laughter and a sense of humor and irony be your constant and supportive friend through good times and bad.
I send all my prayers and love to you and join the entire Mindrolling family and Sangha in our aspiration for your long and fruitful life.
JKR
29.11.2017
H.E. Mindrolling Jetsün Khandro Rinpoche 2018
Det er med glæde, at vi nu kan annoncere datoerne for Rinpoches næste retræte i Danmark:
Det bliver 8.-10. juni 2018
Så sæt kryds i kalenderen! Vi er allerede i gang med de første forberedelser til Ati Zabdön Retreat 2018.
Kurset afholdes som et retræte med overnatninger. Så snart der er mere nyt, vil interesserede få besked via nyhedsmail såvel som her på siden.
29.11.2017
Mindrolling retreat 2018
Vi har modtaget indbydelse til Mindrolling Retreat i 2018, som videregives her til alle, der måtte være interesserede.
Startdatoen er den 2. februar 2018, og retrætet slutter den 13. februar.
Programmet vil bestå af belæringer givet af Hendes Eminence Mindrolling Jetsün Khandro Rinpoche, ligesom der vil være tid til personlig praksis og perioder med gruppemeditation.

08.02.2017
Kursus med H E Mindrolling Jetsün Khandro Rinpoche
KØBENHAVN 9. TIL 11. MAJ 2017
Indledende undervisning der fører frem til Ati Zabdön cyklus af belæringer
08.01.2017
RINPOCHES NYTÅRSHILSEN
Optagelse af Rinpoches tale Nytårs dag er nu tilgængelig på LiveStream.
Du kan finde materialet her: Recording of Rinpoche's New Year's day web address now available. Vigtigt er også link til audio only.
14.12.2016
DEAR FRIENDS
On behalf of Mindrolling International we are delighted to announce a five week intensive retreat at Mindrolling Monastery, which will take place from January 15th to February 21st 2017.
This retreat will be an opportunity for practitioners to strengthen their practice within the supporting framework of a silent sessions retreat in the sacred environment of the Mindrolling Monastery. Her Eminence Mindrolling Jetsün Khandro Rinpoche will bestow teachings throughout this retreat.
Rinpoche would like this retreat to be open to practitioners who have received numerous teachings and require now to dedicate time to intensive practice in order to further deepen their understanding of the precious Dharma. It will provide one with the precious opportunity to work with the various teachings and practices one has received within the framework of a disciplined and scared environment. It will thus enable practitioners to truly strengthen and deepen one's practice of the Buddhadharma and bring the view into meditation and action.
28.11.2016
KÆRE DHARMAVENNER!
SÅ ER DER GLÆDELIGT NYT:
Vi har nu fået dato for Mindrolling Jetsün Khandro Rinpoche's kursus i København 2017.
Det bliver 3 hverdage: 9. 10. og 11. maj.
Kurset afholdes i Phendeling, og vi regner med undervisning sen eftermiddag og aften.
Mere information følger.
Kærlig hilsen Samten Tse Danmark
19.01.2016
LOSAR MESSAGE FROM RINPOCHE
Guru Rinpoche, Buddha of the three times,
Lord of all siddhis who is the one of great bliss,
Dispeller of all obstacles, wrathful tamer of Mara,
We supplicate you; please grant your blessings.
Grant your blessings that outer, inner
and secret obstacles be pacified
And that our intentions be spontaneously accomplished.
Greetings to everyone on the eve of the Fire Monkey Year.
As another year ends and the morrow brings in the beginning of another lunar year, we at Mindrolling wish you a harmonious new year filled with contentment and happiness.
For those of us blessed with the connection to Guru Rinpoche, this Year of the Monkey is a special year that only comes once every 12 years. Although capturing the life, activities and meaning of the great Guru of Oddiyana is like measuring the sky, from a conventional perspective, it is said that this great second Buddha manifested as the Lotus Born in the Year of the Monkey.
It is extremely fortunate that we are all able to celebrate this special year in 2016. And as we begin this year with renewed vigor and enthusiasm to be a true Dharma practitioner not just in name but also in meaning, let us pledge ourselves that we will take our practice that much further; we will put that much extra effort to be kinder and we will push ourselves a little harder to be more patient. We will, in this year of Guru Padmasambhava, try our best to embody his teachings and take another step, no matter how big or small, closer to enlightenment. Let us not fall into laziness, excuses and stagnation but look to welcome this year with freshness and vitality injected into our daily practice.
So, let us take this opportunity to find joy and a sense of eagerness in bringing richness to our practice. Let us find time to celebrate the goodness and virtue we can give rise to in our lives.
Celebration is not just eating, drinking, play and entertainment and mindless activities. As practitioners we should learn to celebrate—
Celebrate the wonderful innate qualities of kindness and love.
Celebrate the ability to give happiness to others.
Celebrate contentment and simplicity.
Celebrate that fact that you are human with boundless goodness.
Celebrate who you are and how you can evolve to being the source of joy to all.
Celebrate how far you have come and all that has led you to this point.
Celebrate the opportunity to practice the Dharma.
Celebrate silence.
Celebrate solitude.
Celebrate small moments of joy.
Celebrate all beings and your inter-connectedness to all.
Celebrate every moment knowing that each moment carries the full potential of liberation.
Celebrate not just once the new year but each new moment as it arises.
Celebrate the fact that the glorious gurus of the lineage appeared and gave rise to immeasurable benefit.
Celebrate the happiness and success of others.
Celebrate virtue and merit.
There are all these many simple and yet very powerful ways we can celebrate together. And what does it mean when we say "celebrate?" To celebrate is to take a moment to pause, reflect and then give rise to pure joy which fills us with renewed vigor and resolve to persevere on our path of practice. Celebration should lead us to think, "Yes, everything may not be perfect but we are still here, there's still goodness and we have much to be joyful about and much to preserve and much to improve upon." True celebration brings appreciation, strengthened vows and vitality in our practice and lives.
So let us celebrate in the true sense—not in the conventional sense of partying and self-congratulatory dullness but with enthusiasm and the fresh bloom of joyful resolve to go further on our path to true awakening.
Minling Dungse Rinpoche, Jetsün Gautami Rinpoche and all of us at Mindrolling Ladrang and Mindrolling and Samten Tse send our Losar Greetings and prayers to you all.
—MJKR
02.12.2015
PARINIRVANA AF KYABJE TAKLUNG TSETRUL RINPOCHE
Se LINK 1 eller LINK 2 for den engelseke version af annonceringen. Rinpoche har også nævnt, at den bedste praksis for studerende i forbindelse med en stor mesters parinirvana er guruyoga. Tilbed guruen med en hjerte følt hengivenhed, akkumuler Guru Rinpoche mantraet og reciter bønner til Guru Rinpoche. Jetsun Khandro Rinpoche also mentioned that the best practice for students to do at a time of parinirvana of a sublime teacher is guruyoga. Supplicating the guru with heartfelt devotion, accumulating the mantra of Guru Rinpoche, and reciting prayers to Guru Rinpoche.